Maariv: WIZO Youth Villages featured in article on unique education
In an article on high schools offering unique study programs, Maariv profiles two WIZO Youth Villages: Gan Vanof and Nachlat Yehuda 
"SCHOOL OF LIFE: SOMETIMES THE ANSWER LIES BETWEEN PRIVATE OR ALTERNATIVE"
Standard schools do not provide an answer for every student. Sometimes the right educational framework lies somewhere in between private or alternative schools. 
By Talia Levin, Translated by Yonatan Sredni
The following is a tranlsated excerpt from the article:
In recent years, the Israeli educational system has also come to realize that conventional education may not be suitable for everyone, and that students are not always able to or need to adapt to it. Sometimes the function of the system is to match itself to the individual, including those who don't follow the regular path. While the road to implementing all decisions made by the Ministry of Education is still a long way from being completed, we have found some schools that have decided to take on the difficult task of reducing gaps and providing a different kind of education to students. For the purposes of this article, we looked for schools that are exceptional in their approach and experience.
At the WIZO Nachlat Yehuda Youth Village in Rishon LeZion there is a unique program which trains high school students to be the next generation of firefighters and rescue workers. Part of three-year environmental studies track, which enables the students to receive a full matriculation certificate, the Fire & Rescue Cadets Programincludes theoretical study – studying flammability, operating fire extinguishing equipment, treating the injured – as well as practical hands-on training with the fire engines and equipment at the Rishon LeZion Regional Fire Station. Each year on the eve of Lag Ba'omer, the firefighting students accompany the Rishon LeZion firefighters on bonfire patrol, ensuring the safety of local youth. Beyond the training provided, the program instills tremendous confidence and pride in the young students.
WIZO Gan Vanof: From Herbal Medicine to Dog Training
WIZO also runs several other vocational schools and youth villages. WIZO prides itself on teaching horticulture with a specialization in ecology. The WIZO Gan Vanof Youth Village in Petach Tikva, which dates back to1922, is home to the only horticultural and agricultural school in Israel. At Gan Vanof, students learn a variety of subjects related to agriculture and are given the opportunity to work on an agricultural farm with high-tech labs. The school also offers studies in herbal medicine, spice and perfume production, a popular dog training program and a one of a kind veterinary studies program.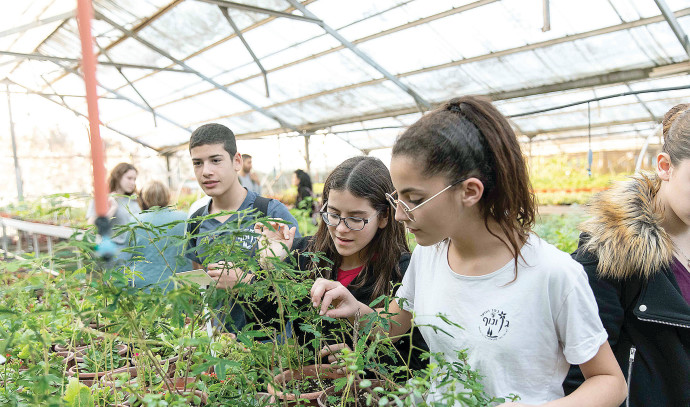 Studies in Herbal Medicine at WIZO Gan Vanof Youth Village (Photo: Din Aharoni Rolland)
SEE PREVIOUS ARTICLE
SEE NEXT ARTICLE